Make Your Website a Priority
we'll make it our passion
Small Business Website Design & Marketing Company
Creating beautiful websites in Austin since 2010.
An Austin Digital Media Agency
Austin Custom Web is a custom website design company in Austin, TX. We provide full service website design, development, and marketing for small businesses, as well as continued support whenever you need it. In a constantly evolving digital media landscape, our focus is to take care of your website, so you can take care of your business.
Take Your Website to the Next Level

Go Local
A successful website design project starts with a great relationship. We spend the time needed to understand our clients' goals and expectations, offering support during and after project completion.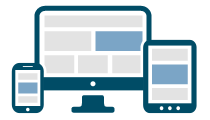 Mobile Priority
Ever feel like your mobile website isn't quite making the grade? We strive for flawless responsive mobile website design, so you won't have to worry about a broken feature or function on your website.
Digital Marketing
Your business' website is only half of the equation. We can help increase your website's visibility on Google with Search Engine Optimization, Social Media, and other Digital Marketing strategies.
Website Design
We design our websites from scratch, tailoring the functions to fit the needs of your business. Front end design covers everything from the structure, graphics, fonts, colors, and theme of the website.
Website Development
Our web development team sets your website up with everything it needs for a great user experience. Once we develop your website you won't need to worry about functionality, that's our job.
Logo Design
Your logo is a visual representation of your company's story. A logo communicates ownership, who you are, the type of product or service you offer, and often times the benefit you offer.
Branding
Branding is the process of influencing what your customers think of a company. Logo, color scheme, typography, and voice are all elements that are considered when creating a successful brand.
Graphic Design & Print Design
Nothing makes a first impression on clients like a clean and strong design. Whether it be your logo, stationery, website, or sign, make sure to gain instant credibility with professional graphic design.
Search Engine Optimization
Search Engine Optimization is the process of improving the quality and volume of traffic to a website, by employing a series of proven techniques that help a website achieve a higher ranking with the major search engines.
Social Media Management
There are hundreds of social media options, and the reality is that today's online businesses must employ a social media strategy to compete. Not only has Social Media proven to be a viable marketing asset, it's become a must have for all businesses.
Business Listings
Creating and Optimizing your business listings creates credibility. We can help set up Google Business, Yelp, LinkedIn and other essential business listing accounts.
Pay Per Click Management
PPC or PSA (Paid Search Advertising) is a great way to get fast conversions for your business and generate traffic. As the term suggests, you as the advertiser only pay when someone clicks on your ad.
Online Advertising
A big part of successful business marketing is online advertising. There are several different ways a business can take advantage of online advertising.
Email Marketing
Email marketing is another crucial form of digital marketing. Consistent email marketing can do more than just keep your customers informed with your latest products and business advancements.
We build unique and professional small business websites, and we'll never make you DIY
Austin Custom Web created a new website to replace our outdated one. Our new site is way more professional than the last and it really shows the level of craftsmanship... read more that we provide, which has helped us close more deals with our target customers. The team at ACW was great to work with, and they are quick to address and help with any website needs we have had since launching our new website. Highly recommend if you are looking for a local Austin website design company!

Jason Kloesel


I contacted Austin Custom Web to see about a new website to replace our old one. Zak at ACW was excellent at listening to what we wanted for our site.... read more New site turned out looking very clean and professional, which was exactly what we wanted for our message. The ACW team was easy to work with and continue to quickly help with any update needs we have for the new website. If you need a new website or upgrades to your website, I highly recommend ACW.

Joe Stuebgen


I called several website designers and after speaking with Zak knew he would be a great fit. I talked it over with my husband and we did a phone call... read more that same night. He was considerate of our budget and never tried to push anything on us. He was extremely flexible and diligent during the whole process! We were surprised by how quick everything went up and we're thankful he kept us posted on any and all updates! The website looks great and we can't wait to keep working on it!

Mikaela Lindsey


I've had the pleasure of working with Austin Custom Web on projects for multiple companies. Zak is incredibly helpful and responsive at all hours of the day despite time... read more zone differences. We will continue to use Zak and Austin Custom Web for future projects!

Chelsi Chaira


The Team at Austin Custom Web is awesome. At least one customer everyday tells me that they love my website. The did exactly what I had envisioned with their own... read more professional spin on things. I would highly recommend this company to anyone looking to make their website more professional

Jesse Tompkins


Great resource, helpful and easy to work with.

Shane Bryant


I was searching for a web developer who understood my business needs. I was very lucky to find ACW Zak is not only professional but he is very punctual developing... read more my website! I extremely recommend them if your ever in need of getting things done the right way! Thanks Zak!

Richard Torres


Zak the owner is super conscientious and proactive. Quick turn around.

Tru Licano


Zack was great to work with, he took our concept and ran with it. Couldn't be happier!

Keith Loerch


Austin Custom Web is a fantastic web development company. I have used them for 2 non-profit websites I supported and a for my own business focusing on the solar energy... read more industry. They are very efficient, fast to respond to requests, and went way over the top with their delivery and final results. I'm highly impressed with their speed and skill level and highly recommend them for your next website project.

Shelby Ruff